More than 150 jobs at risk at Isle of Wight Council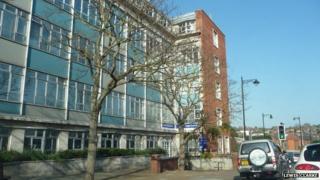 More than 150 jobs could be lost at a council that is trying to slash spending by millions of pounds in the next financial year.
Consultation has begun with Isle of Wight Council staff over the potential loss of 152 jobs by March 2016.
The council said it needed to look "radically" at delivering services and allocating resources because of a reduction in government support.
It is seeking to reduce its net spend by £13.5m in the next financial year.
'Disaster'
The council said it would consider job sharing, reduced hours, flexible retirement, voluntary retirement and voluntary redundancy "to keep compulsory redundancies to a minimum".
Savings already made include utilising technology more effectively and developing strategies to reduce demand for high-cost care, the council said.
Mark Chiverton of Unison said: "For the people in the Isle of Wight this is a disaster.
"It's got an elderly population and unemployment is high. We are very dependent on the public sector, both for services and the jobs.
"It's an indictment of the Tory-led coalition's policy of austerity, austerity, austerity, which is wiping services off the map and leading to more unemployment."
Isle of Wight Council leader Ian Stephens said: "As we prepare next year's budget, we are continuing to explore a range of options in order to keep the number of redundancies to a minimum.
"However, due to the scale of savings we need to find, unfortunately some job losses will be inevitable."
The council said it would liaise with trade unions throughout the consultation which began on Monday and ends on 15 January.
Final recommendations and budget proposals will be put before the council for approval on 25 February.