Karl Law disappearance: Relatives find stranger's body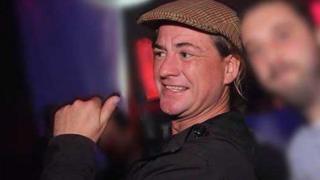 Relatives searching for a British man who went missing on a stag do in Prague found the body of a stranger.
Steve Stock, one of Karl Law's cousins, found the body of a Czech man on disused stairs leading to a bridge.
Mr Stock said: "It was horrible - but he had long blond hair, so I had to get peace of mind and check it wasn't Karl."
He alerted police in Prague and they then identified the body.
"I'm still in a total shock," Mr Stock said.
"I ended up climbing back over the fence three times and had to get closer to check if he had a mole."
Homeless people
Mr Law, a 34-year-old father-of-one from Fareham, Hampshire, disappeared during a stag weekend in the Czech capital on 15 November.
Mr Stock said: "He [Karl] may well have just cracked, lost his mind and not know who he is.
"We still have hope. There's no plans to come home until we find him."
Since his disappearance, Mr Law's family have been running a search campaign in the city and have hired a private investigator.
The family and friends said they planned to go out overnight to spend time in areas where homeless people gather.
Detectives in Prague said there had been "no fundamental shift" in the search for Mr Law.
Two sightings of Mr Law, on 16 November at the Palacky Square and the following day in the area of the National Theatre, were confirmed by police last week.
Prague police spokesman Tomas Hulan said: "In both of the cases he allegedly showed signs of intoxication of alcohol and some confusion."