Guns and bomb in Hampshire police amnesty haul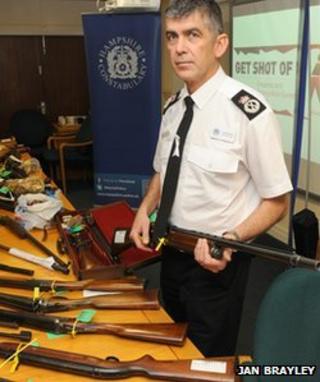 A Word War Two sub-machine gun, 42 shotguns, 13 rifles and two revolvers were among 126 firearms surrendered to Hampshire police in a 12-day amnesty.
The haul also included hundreds of rounds of ammunition, a WW2 bomb, tranquilizer darts, a nail gun, knives and a Samurai sword.
Members of the public were encouraged to hand over unlicensed firearms which may have been illegal.
Chief Constable Andy Marsh said he was "surprised" at how much was recovered.
He added: "This is 126 weapons that will now not find their way into the hands of people who might cause harm with them to themselves or others.
"I'm very pleased about that and grateful to the people who surrendered them."