Runner beans 'caused Romsey Primary pupils' illness'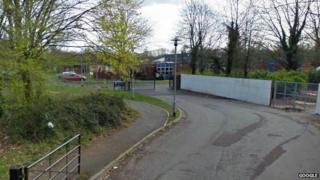 Eating raw runner beans caused pupils from a Hampshire school to fall ill with sickness and diarrhoea after a trip, an investigation has concluded.
At least 29 children from Romsey Primary School became ill in September after visiting Broadlands Estate for an organic farming demonstration activity, Public Health England (PH) said.
Its investigation concluded eating raw runner beans was "the most likely cause of the short-lived" illness.
It added that such cases were rare.
The PHE investigation was assisted by environmental health officers at Test Valley Borough Council.
Anand Fernandes, consultant in communicable disease control in the Wessex PHE centre, said although reports of illness following consumption of raw runner beans were "very rare", the plant should always be washed and cooked before consumption.
In a statement, Broadlands, a country estate in Romsey, said it supported PHE and the local authorities in their investigation and acknowledged their conclusions.
"The aim was to help children experience first hand aspects of the countryside including farming, fishing, forestry and wildlife including bees and falconry," it said.
"We were pleased that all the children recovered quickly."
It had previously said full risk assessments were carried out by all parties.