Southampton footballer Victor Wanyama's home burgled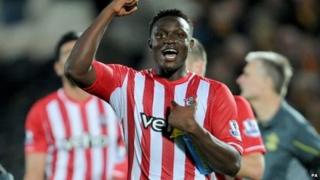 The home of Southampton footballer Victor Wanyama has been burgled while he was away with his club.
The £12.5m midfielder played for the Saints in their 1-1 draw at Aston Villa on Monday night.
But when he returned home in the early hours, he found his Range Rover Sport, electrical items and jewellery had been stolen from his home in the St Cross area of Winchester.
The Range Rover was later found in Iver, Buckinghamshire.
Hampshire police said it was investigating the burglary which took place between 08:30 GMT on Sunday and 02:15 on Tuesday.
Southampton signed Kenya international Wanyama from Celtic on a four-year deal in July 2013.