Bishop's Waltham Sainsbury's supermarket under review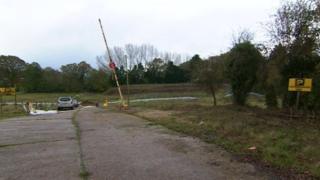 A proposed Sainsbury's store, at the centre of a planning row in a Hampshire town, may not come to fruition following changes to the company's strategy.
Campaigners fought a two-year battle over the plans, arguing the store would have a negative impact on Bishop's Waltham's character and High Street.
But many residents also backed the 35,000sq ft (3,251sq m) development.
Sainsbury's said it was one of its developments now "under review".
The company's profits have been hit by the rise of discount supermarkets and it has scaled back its capital building programme.
A Sainsbury's spokesman said: "We regularly review our schemes in terms of viability and the context of changing shopping patterns.
"In this context the timescales for the delivery of our new stores, including Bishop's Waltham, is under review and we are not yet able to confirm a start date for the scheme."
As part of the development, Sainsbury's said it would help finance the £1.6m relocation of the town's doctors' surgery to the site and the store would create more than 300 jobs.
Dr Simon Hunter, from the surgery, said: "We'll wait until they say either yes or no. There is no Plan B."
Campaigner Eric Birbeck, from Another View, believes the town should have its own Sainsbury's.
"We are disappointed because we've been kept on tenterhooks by the company over the last couple of years," he said.
Aaron Mortby, of Construction Weekly, said the company was taking "drastic action" on its store building programme.
"Anything around 35,000 sq ft really doesn't fit in with their strategy - it's either a few big stores or very many small convenience stores. The balance of probability is such that it's unlikely that Bishop's Waltham will go ahead given that its already been delayed."
Winchester City Council said it was aware of Sainsbury's reviewing its store building programme.
"Sainsbury's makes its own investment decisions and if they decide not to go ahead in Bishop's Waltham then we hope that they make early inquiries about the best use to which the site can be put."