Southampton elected mayor plan rejected by council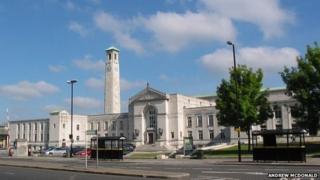 Plans to introduce a directly elected mayor for Southampton have been rejected by councillors.
The Labour-run local authority also threw out proposals to cut the number of councillors from 48 to 32 and alter the election cycle.
The ideas went out to consultation with 48% of residents backing a mayor and 69% of people calling for a cut in councillors.
The Conservatives said the public had been "ignored".
Labour councillor Christopher Hammond said an elected decision-making mayor could lead to "paralysis" if they had a difference of opinion with councillors as they needed the support of at least a third of the council chamber to push through a budget.
'Show some leadership'
On the plan to cut the number of councillors, he added: "We had concerns about workload... at a time when there are less officers.
"We worked out in Hampshire we have the highest councillor-to-electorate ratio. As someone from my party said 'we offer good value for money'."
The Conservatives also voted to reject the mayor but backed a cut in councillors.
Group leader Royston Smith said: "If you're going to slim down your workforce then you should show some leadership and slim down yourself. There's a huge saving in doing that.
"Residents were ignored - what was the point of having the consultation?"
The election cycle change would have seen all seats up for election every four years instead of seats re-elected in thirds in three out of every four years.
It comes at a time when the authority is asking people for their views on axing 137 jobs and raising council tax.