Council pulls out of glitch-ridden Cowes Enterprise College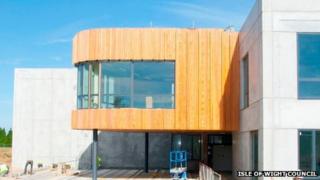 A council has stopped its involvement with a £32m school which opened a year late and then needed £9m in repairs.
Cowes Enterprise College on the Isle of Wight opened in September 2013 but had a leaking roof and electrical, window and door defects.
Isle of Wight Council has given the school to Ormiston Academies Trust (OAT) which is now liable for the work.
Councillor Jonathon Bacon said: "Pretty much everything that could go wrong did - it's been a very sorry saga."
The council said it still had £1.5m in its budget for the school which would be used for the most urgent works.
Mr Bacon said: "Beyond that, all the liabilities and the vast amount of works that still remain to be done are now the responsibility of Ormiston."
In a statement, Ormiston Academies Trust said: "Following the council's decision, we will be developing a plan to decide on the best way forward to ensure pupils can learn in the very best environment."
"Our absolute priority is continuing to deliver an outstanding education for the students."
The council was left to foot the bill for the repairs after its contractors Pihl UK went into administration.