Czech TV appeal for missing stag weekender Karl Law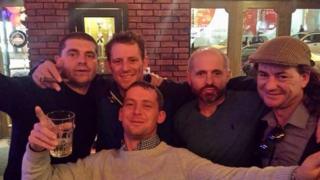 Relatives of a man missing in Prague after a stag weekend with a group of 12 other men have made an appeal on Czech television to find him.
Karl Law, 34, from Fareham, Hampshire, went out on the second night of the trip on Saturday but did not return.
Speaking on TV Nova, Steve Stock, Mr Law's cousin, said he hoped local people would help in the search.
Mr Law works in the building trade and has a fiancée and son, Lenny, who turned three on Monday.
"At about 11:30 or so, we split off into two different groups," Mr Stock told reporters.
"Some of us didn't want to go into [Maxim nightclub], some people did.
"Karl must have lost the group, split off... that's the last time we saw him.
"We're getting a bit worried about him now. Any help would be great."
Mr Stock and another cousin are in the Czech capital searching for Mr Law and one said police had upgraded the case to "category one".
Mr Law lost his mobile phone on Friday night and did not return to the hotel where the group was staying on Saturday.
The family are putting up posters in the city and have started a social media campaign on Facebook and Twitter to help find him.
A spokesman for the Foreign Office said: "We are aware of a British national missing in Prague and we are providing consular assistance to his family."