Immigration Street uncertainty 'left me with panic attacks'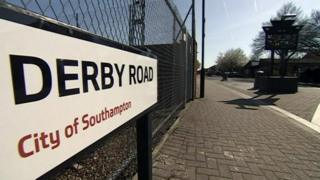 A man who was to appear in TV programme Immigration Street said his efforts to pull out of the documentary have left him depressed and having panic attacks.
The man, whom the BBC is naming only as Chris, was filmed in the spring for the series, set in Derby Road, Southampton.
He later changed his mind about participating but says the Channel 4 show's producers have never officially confirmed he would not be featured.
The situation has made him depressed and anxious, he said.
Channel 4, which is due to broadcast Immigration Street early next year, has told the BBC Chris will not appear in the show, being produced by the makers of the controversial Benefits Street, which aired at the beginning of this year.
A spokeswoman for the broadcaster said it took the withdrawal of consent "very seriously".
'Destroyed me'
Chris said Love Productions had not given him written confirmation he would not be in the programme.
He said his main concerns about appearing in the show were around press intrusion into his family's lives.
"This is causing me mental health illness and anxiety," he said.
"I'm starting to drink a lot more heavily than I should be. It really has destroyed me mentally. I just want closure from it all."
A Channel 4 spokeswoman said: "The people with whom Love Productions have filmed have all given their informed consent.
"Their stories will be represented fairly and accurately. As with any series, we take the withdrawal of consent very seriously and would look closely at the reasons anyone might wish to withdraw consent before making any final decisions."
Residents and community leaders have argued the show will cause friction in the community by focusing on immigration.
They have now started a petition urging people to boycott Channel 4 and all companies that advertise as the programme airs.