MoD land handed to Portsmouth Council for homes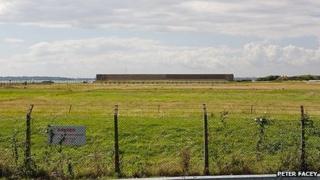 A former firing range and other military-owned land is to be transferred to Portsmouth City Council to provide homes and employment space.
The Ministry of Defence (MoD) is to sign over Horsea Island East and Tipner Firing Range to provide 2,370 new homes and 58,000 sq m of employment space.
The MoD has transferred the sites, off the M275 motorway, for a nominal fee.
Business minister Matthew Hancock said the scheme would play a vital role in bringing investment to Portsmouth.
Council leader Donna Jones said: "With the right transport infrastructure in place we can attract developers to the sites and create much-needed homes and jobs."
Horsea Island, which has been part of the mainland since reclamation in the 1970s, was once part of the navy's HMS Excellent shore establishment.