Southampton hotel fire cancels Eastleigh vs Lincoln City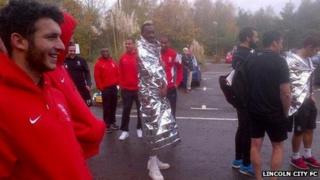 A blaze at a Southampton hotel forced the cancellation of a football match, because away team players could not retrieve their kits from the building.
Fans took to Twitter to complain after the game between Eastleigh and Lincoln City was called off.
More than 40 guests and staff were evacuated from the Hilton after a fire and explosion in its leisure club at about 11:00 GMT.
Eastleigh FC said no refunds would be given.
Lincoln City fans expressed their annoyance at a wasted "200-mile trip".
'Go to sports shop'
The match between the Conference teams was initially postponed but later cancelled.
Lincoln City, known as The Imps, tweeted: "Can only apologise to fans who have travelled but all in hands of fire brigade. All players' boots, etc in rooms which we can't enter".
Rob Beezley, A Lincoln City fan, tweeted: "U Rly think fans can afford a 200 mile odd round trip again?!"
No refunds
Fellow Lincoln City fan Josh Hammerton tweeted: "Could you not of gone to a sports shop near by to get boots and shin pads? Will we be refunded for coach travel?"
A statement from Eastleigh FC said: "No refunds will be available for this fixture but home tickets need to be kept as they will be valid for the rearranged fixture or another league fixture.
"Please look at the club website and social media for the re-arranged fixture."
Eastleigh manager Richard Hill said: "It's happened, you can't change it. You just have to deal with it.
"It gives us a chance to have a little bit of a rest, we've had a tough six games."