World War Two Calling Blighty cinema boy found 70 years on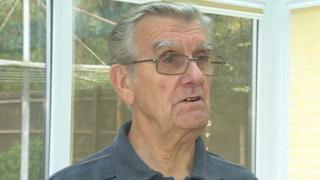 The identity of a Southampton boy who made local headlines when his father appeared in a World War Two army film has been revealed, 70 years after the film was shown.
Robert Kneller was five when he shouted "Yes Daddy, I see you" when his father appeared on the cinema screen.
He was tracked down by a team working on an exhibition about the city's history.
Mr Kneller said he recalled the "excitement" of the cinema visit.
His father was featured in Calling Blighty, one of a series of films made by the Army Film Unit enabling military personnel in India to record messages for families at home. Only a handful of the original films survive.
In Southampton the local newspaper reported how when Gunner George Kneller appeared on screen saying to the camera, "Hello Bobby, can you see me?", his son stood up and replied: "Yes Daddy, I see you."
Following an appeal on BBC Radio Solent, Mr Kneller was tracked down by a team at Southampton Solent University producing an exhibition marking the 50th anniversary of Southampton gaining city status.
Mr Kneller, now 75, recalled there was a "happy atmosphere" at the Classic Cinema,
"I was just excited, everyone was excited - it was quite a major event for people," he said.
George Kneller survived the war and returned home from India.
Tony Steyger of Solent University said: "There was something a haunting about these faces from the past talking straight to the camera.
"When a little boy sees his dad who he hasn't seen for almost all his life and reacts in such an emotional way, it made us wonder where is Bobby now. I was thrilled and excited to have found him.
---
Bobby sees his Daddy on the screen - Extract from Southern Daily Echo - 1 May 1944
"Can you see me Bobby? And in a twinkle Bobby thrilled the audience when he excitedly exclaimed 'Yes Daddy, I can see you'. This was one of the pretty little incidents at the special screening of the film, Calling Blighty, at the Classic Cinema Southampton yesterday.
Bobby was not the only one present who got a thrill. Mothers, fathers, wives and sweethearts were overjoyed at being able to see and hear their menfolk. Some found it very exciting and deeply touching that they could not contain their emotions."
---