BoomTown Fair woman 'went berserk' after early wake-up, inquest hears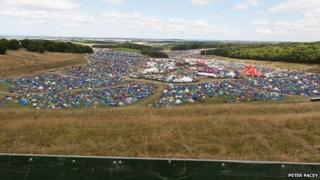 A woman who was found hanged in a campsite toilet at a music festival in Hampshire, "went berserk" after being woken up early, an inquest has heard.
Lisa Williamson, 31, from Bromyard, Herefordshire, was found at the BoomTown Fair site, on 9 August.
Medical staff treated her on site but she was pronounced dead in hospital.
Coroner Grahame Short recorded an open verdict, saying there was not enough evidence to prove her death was either a suicide or an accident.
The inquest, in Winchester, heard Mrs Williamson and her husband Darren arrived at the festival on Thursday 7 August and "partied all night", after taking the drug MDMA, also known as ecstasy.
'Altered state of mind'
On Friday, they continued to take drugs and went to bed in the early hours of Saturday.
Mr Williamson told the inquest his wife had "gone berserk" and stormed off after being woken early on Saturday afternoon.
She said "everyone was against her" and left their tent, while still in her pyjamas.
Mrs Williamson was later found in a toilet cubicle by another festival goer, who alerted security guards.
Pathologist Hayley Burnley said Mrs Williamson died of hanging and the drugs "would have altered her state of mind".
She said there was evidence of MDMA in her bloodstream.
The inquest heard the couple were not "regular users" but took drugs when they had a night out.
They had been together for eight years and this was the first festival they had been to.
'A quiet person'
Mrs Williamson had no history of depression and only visited her doctor in 2010 as she was feeling "a bit low", her husband said.
"My wife was quite quiet as a person," he told the inquest.
Mr Short said: "Lisa had been behaving strangely in the last few hours of her life and I believe it was a combination of things [that caused her death].
"It was the drugs which had affected her, a lack of sleep and also the high temperature that affected her state of mind.
"I am satisfied that she took amphetamines and that she was under the influence of these drugs at the time of her death but the drugs themselves didn't cause her death directly."