Isle of Wight wind turbine blades deal announced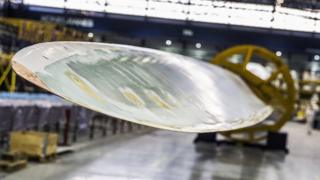 Blades for the "world's most powerful offshore wind turbine" will be built on the Isle of Wight, it has been announced.
MHI Vestas Offshore Wind wants to start producing the 80m (260ft) blades in the first half of 2015.
Chief executive Jens Tommerup said it would become the first manufacturer to serial produce blades for future offshore wind projects in the UK.
Vestas closed a turbine plant on the island in 2009, axing 425 jobs.
It led to workers blockading themselves inside the Newport factory for 18 days in protest.
But the company opened a research and development facility in 2011, where blades are designed and tested.
They are for the V164-8.0 MW, which it claims is the most powerful offshore wind turbine in the world, having produced 192 MWh in 24-hour period.
The new joint venture with Mitsubishi Heavy Industries could create 800 jobs in the UK, a spokesman said.
UK Energy and Climate Change Secretary Ed Davey claimed the sector had helped "2,250 green jobs" this year and was another example of the offshore wind industry "attracting global investment".