Southampton Central Bridge reopens after repair delays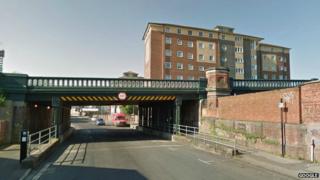 A Victorian bridge which was in need of waterproofing has reopened after "historic hindrances" to its repair.
Central Bridge in Southampton was closed at the end of March and had been due to reopen in September.
Motorists, cyclists and pedestrians began using it again earlier.
Southampton City Council said the delay was caused by "many unforeseen obstacles" while waterproofing the bridge.
The layout has been redesigned to allow traffic to access the Itchen Bridge from Terminus Terrace.
There is also a new two-way cycleway along Marsh Lane and changes have been made to the layout of Saltmarsh Junction.
The team used Victorian drawings of the 133 year old, Grade II-listed bridge for reference, but they turned out to be inaccurate.
As a result, the original waterproofing plan had to be scrapped and a redesign implemented.
An "unexpected structural crack" delayed the programme for several weeks.