Funding for Isle of Wight landslide road refused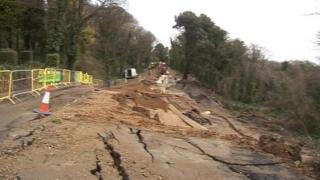 A request for government cash to help fix a collapsed road on the Isle of Wight has been refused.
Ventnor Town Council had hoped to secure funding for Undercliff Drive similar to the £2m business case being drawn up for Eastbourne Pier.
Undercliff Drive was destroyed in February's severe weather.
Penny Mordaunt, Conservative MP for Portsmouth North, said it was the council's responsibility to maintain highways.
In 2012 the council was awarded up to £477m Private Finance Initiative funding by the government to carry out vital improvements and maintenance to the island's roads over a 25-year period.
Councillors agreed in September to fund £500,000 into research to look at different options for repairing the road.
The road remains closed between Niton and St Lawrence with a four-mile detour in place.