No Man's Land sea fort hotel opening delayed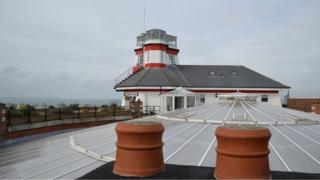 A hotel being built inside a sea fort in the Solent will not open until spring 2015, amid building delays.
No Man's Land, one of three 19th Century sea forts owned by property firm Clarenco, had been due to open last Friday.
The company said issues with construction of the landing stage meant it was not able to move furniture into the hotel.
A new date for the opening has yet to be set.
No Man's Land is about 1.5 miles (2.2km) off the Isle of Wight and is the second sea fort in the Solent to be brought back into use by Clarenco.
When complete, it will have 22 bedrooms and a dining room that can seat up to 200 people.
The company also owns Spitbank Fort, which opened as a private venue in 2011.
The smaller island, one mile (1.6km) off the Hampshire coast, provides accommodation for up to 18 people and function space for 50 guests.
It also owns a third fort, Horse Sand, which it plans to open as a museum, although work there is yet to begin.
A Clarenco spokeswoman said: "The process to restore historic buildings needs to be undertaken with meticulous care and love.
"After several lengthy consultations with the external agencies helping us with the extensive refurbishment, we unfortunately need to postpone the opening of No Man's Fort until spring 2015.
"However, the delay will mean we have the opportunity to get things spot-on which really matters to us and we hope guests will agree.
"The forts are such an important part of British history... we really want to get things right."
The Solent forts were built in the latter half of the 19th Century to protect Portsmouth from the threat of invasion.