Portsmouth Muslim leaders condemn Islamic State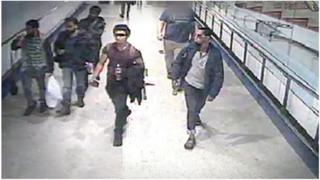 Muslim leaders from mosques in Portsmouth have come together to try to stop more young men from the city travelling to fight in Syria.
Four Portsmouth men have been killed after joining Islamic State (IS).
On Sunday, a faith leader blamed social media and the internet for "radicalising" them.
The mosques, along with the city council and police, have jointly signed a statement urging people in the city not to join the IS group.
They said: "We are united in our condemnation of hatred, violence and racism. We are united in our condemnation of the group known as the Islamic State.
"It is not a humanitarian cause they would be joining, it is a violent and terrible regime. Such acts of violence are barbaric and inhumane. There is absolutely no basis in Islam for these acts."
On Friday, a photograph of the body of Mehdi Hassan, 19, emerged on Twitter - he was the fourth Portsmouth man to have been killed in Syria.
He had travelled to the country with four friends in October 2013.
Mamunur Roshid, 24, and Hamidur Rahman, 25, have both died while Mashudur Choudhury, 31, returned to UK after a few weeks and became the first person in the UK to be convicted of terrorist offences in connection with the conflict in Syria.
Assad Uzzaman, 25, is still believed to be in the country.
Ifthekar Jaman, 23, left the UK separately in May last year but was reported dead in December.
Two brothers of Mr Jaman have recently been charged with terrorism offences.
The statement has been signed by: Liakoth Ali Mufti, Muslim Academy, Abdul Jalil, chairman of Jami Mosque, Mohammed Ahmed, president of Central Mosque, Salim Rahman, director of Madani Academy, David Williams, chief executive of Portsmouth City Council, Supt Will Schofield and Ch Insp Alison Heydari, both from Hampshire Constabulary.