Ashya King finishes proton beam therapy treatment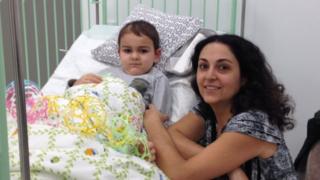 Brain tumour patient Ashya King has received his final dose of proton beam therapy, the clinic treating him has said.
It was five-year-old Ashya's 30th session at the Proton Therapy Centre in Prague where he has been treated since 15 September.
Ashya was put under anaesthesia for the last time at 09:30 local time.
His story received global attention in August when he was taken from hospital in Southampton without medical consent.
Ashya's parents Brett and Naghemeh, of Southsea, took him to Spain where they were arrested and held in a prison in Madrid.
They had wanted him to undergo proton beam therapy, which had not been recommended by his former doctors treating him at Southampton General Hospital. The couple were later released and the NHS agreed to fund his treatment in September.
Iva Tatounova, director of the Proton Therapy Centre in the Czech capital, said: "I don't know if you remember the pictures when he was transported here - just lying on his bed in the ambulance.
"Now he can sit on his own, he can play with the toys. He can also react to his surroundings."
Czech doctors treating Ashya said they will not know for several months whether the treatment has eradicated any lingering cancer cells, following the removal of his tumour in July.
The King family are due to travel to Spain this weekend.
It uses charged particles instead of X-rays to deliver radiotherapy for cancer patients
The treatment allows high-energy protons to be targeted directly at a tumour, reducing the dose to surrounding tissues and organs
In general, it gives fewer side effects compared with high-energy X-ray treatments
It can be used to treat spinal cord tumours, sarcomas near the spine or brain, prostate cancer, lung cancer, liver cancer and some children's cancers
Sources: NHS England, Cancer Research UK