Sandown Bay Academy 'no longer requires special measures'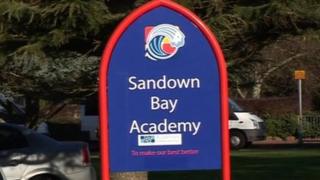 An Isle of Wight school "no longer requires special measures", the principal has said following an inspection.
Eric Jackson, principal of Sandown Bay Academy, wrote in his blog following the Ofsted visit, "pride in the academy has now been restored".
The new grading of the school will not be confirmed by Ofsted until a full report is published in four weeks.
Inspectors visited the school last Wednesday and Thursday.
Mr Jackson said: "This is excellent news for all at the Sandown Bay and is the result of the hard work of staff and students.
"We have exited special measures a few months earlier than originally anticipated."
Last year Ofsted's chief inspector raised "serious concerns" about the support Isle of Wight Council gave to schools on the island.
In addition the operator of Sandown Bay Academy, Academies Enterprise Trust, was sent a "pre-warning" letter from the government last November which said improvements had to be made.
The academy was placed in special measures by Ofsted following an inspection last spring and has had three head teachers in the last two years.