Cowes chain ferry passenger toll protest staged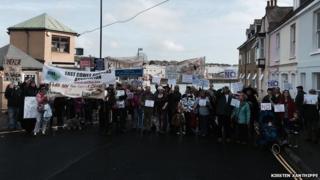 More than 50 people have staged a protest against plans to charge pedestrians and cyclists using a chain ferry on the Isle of Wight.
The 38-year-old ferry, linking Cowes and East Cowes, is due to be replaced and the charges will help fund its replacement.
A Facebook campaign, against the proposed 50p charge each way, has gained more than 700 supporters.
Isle of Wight Council said it is not legally obliged to provide the service.
It added it has to make the charges for the so-called Cowes Floating Bridge in order to avoid additional costs to its budget.
Campaigners argue it is an "unfair tax" to walkers and say it will not save the council money because it will put people off using it.
East Cowes resident Marcie Hansen said some residents make return trips on the ferry up to four times a day, including parents taking and collecting children from school.
"Some families simply can't afford those mounting costs," she said.
The ferry enables passengers to avoid a 20-mile round trip and free river crossings, for an estimated one million pedestrians and cyclists each year, have been in place since 1992.
Tolls for motorists currently range from £2.20 for cars to £7.60 for lorries.
A public consultation on the plans runs until 31 October.