Protest over Welborne town plans in Hampshire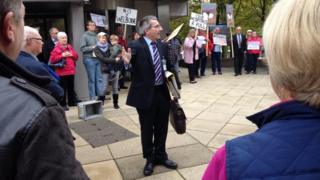 Protests have been held against a proposed new town in Hampshire as an examination of the plans begins.
Welborne would be located between Portsmouth and Southampton and include 6,000 homes, offices, shops and four schools.
A demonstration was held outside Fernham Hall before protesters made their way to Fareham's civic offices where the inquiry takes place.
The examination by the planning inspector will end on 23 October.
The inspector will decide whether the development plan meets legal requirements.
It is the last stage before a development plan can be adopted by a local authority.
'We're being urbanised'
Protester Mike Carter said: "There is no question that if you put houses at 35 to the hectare instead of agricultural fields then that is going to change the dynamics of that bit of country completely.
"Since this is on the edge of Fareham and will extend to the edge of Wickham I feel that means we're being urbanised."
The proposed town would be built on green field land north of the M27.
The name relates to fields immediately north of Kiln Road and south of Kneller Court, as shown in 19th Century maps.
Fareham Borough Council said the homes would be built gradually over 25 years to meet growing demand.