Hambledon granted final £1.4m for flood alleviation scheme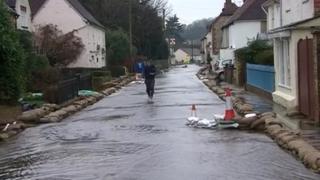 The final £1.4m of funding needed to help a flood-hit Hampshire village has been approved.
The Environment Agency has confirmed the grant, which was needed to complete a £3.9m alleviation scheme in Hambledon.
The village was flooded for more than 40 days earlier this year and has a long history of groundwater flooding.
A 3ft (1m) diameter pipe will be installed under the village and drainage ditches will be cleared.
Hampshire County Council had already secured £2.45m of funding but had also bid for a £1.4m government grant to help pay for the scheme.
The first phase of the scheme, which involves improving the network of drainage ditches to the south of the village, will start at the end of October. Phase two will start early next year and will provide new floodwater culverts and road resurfacing.
Tony Higham, chairman of the Hambledon Flood Action Group, said: "The impact on people's lives has been devastating.
"Obviously we knew that the Environment Agency was looking at the scheme, but until the ink was dry on the page it was difficult to believe it was going to happen."