Royal Cliff Hotel in Sandown wrecked in suspected arson attack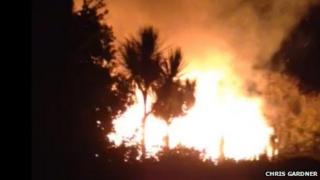 A disused hotel on the Isle of Wight has been wrecked in a suspected arson attack.
Fire broke out in the derelict Royal Cliff Hotel in Sandown on Saturday, shortly before midnight.
Isle of Wight Fire and Rescue said there had been severe damage to the first and second floors and the roof of the building off Beachfield Road.
Fire crews remained at the scene into Sunday, dampening down hot spots. An investigation is under way.