Abandoned New Forest 'Boris' bike scheme cost £84,000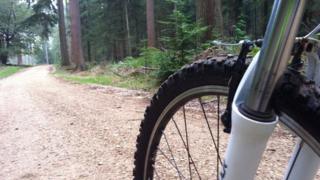 More than £84,000 was spent on a New Forest cycling scheme that was rejected by the national park authority.
In total, £615,000 of £3.6m given to the authority by the Department for Transport has already been spent, a Freedom of Information request showed.
The plan was rejected in August over "anti-cycling sentiment", the authority said.
Money was spent on a desk-based study, design, procurement and legal support for the so-called Boris bike scheme.
In the Task and Finish Group report, from the 19 August meeting where the decision was made, out of 139 responses from the public consultation 50 people who live in the forest supported the bike hire scheme, compared with 35 people who did not.
'Lack of support'
When asked the reasoning behind the negativity towards the scheme seven people replied there were too many cyclists in the forest already.
A total of £84,100 was spent on the hire plans as well as a total of £337,719 on grants to the Forestry Commission, Hampshire County Council and other organisations.
In addition to the cycle hire scheme, other initial proposals put forward were a plan for 15 "pedal buses", which encountered "legal and operational challenges" and a Family Cycling Centre at Brockenhurst, which was abandoned after a commercial partner pulled out.
At least £15,000 was also spent developing these plans.
Money has also been spent on a mobile information unit to promote family cycling, two Brompton bikes, a cycle cinema and an electric bike.
A spokeswoman for the New Forest National Park Authority said the spending was in line with the conditions of the grant and members were concerned about the "financial sustainability" of the project and the possibility of finding sponsorship.
She said: "A recent community feedback survey showed a lack of strong support for the scheme among local residents and parish councils."