Basingstoke Town Football Club displays £10m stadium plans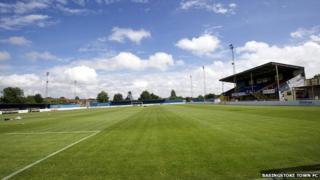 Plans for a £10m stadium for a Hampshire non-league football club have gone on show.
Basingstoke Town, which is in the Conference South division, wants to relocate and turn its current ground into a retail park and sports complex.
Club chairman Rafi Razzak said Camrose stadium "falls short of league standards" and the club had "big ambitions for the future".
Fans can have their say in a public consultation on the move to Old Common.
The Camrose stadium has a capacity of 2,500 with an average attendance of 312 last season, when the club finished 14th out of 22 teams.
A club spokesman said the new site "would give the club the opportunity to move into a higher league and provide spectators with much improved facilities".
Mr Razzak said: "Camrose has been a fantastic home for us for well over 60 years and it has seen many great sporting moments.
"But now it is in such need of modernising that it threatens to become a major obstacle to realising the club's dreams."
The club wants to use an eight-acre (3.2 hectares) piece of land owned by Basingstoke & Deane Borough Council between London Road and Old Common Road near War Memorial Park.
The club said the money for the new stadium, with a planned capacity for 5,124, would come from the sale of the section of the Camrose ground owned by Basingstoke Town.