Robert Cerqua 'murdered twin in drunken fight'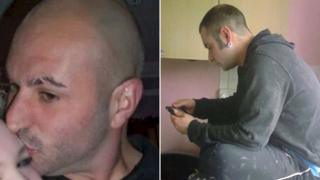 A man accused of murdering his twin brother in a knife attack on New Year's Eve had a drunken argument with his sibling, a court has heard.
Robert Cerqua is accused of killing his identical twin, Christopher, with a single stab wound to his stomach at the family home in Hythe in Hampshire.
Appearing at Winchester Crown Court, Mr Cerqua, 31, denies murder.
He told police he acted in self-defence after his brother attacked him with a knife.
Nicholas Haggan QC, prosecuting, told the court Mr Cerqua picked up a kitchen knife and used it to stab Christopher.
He said Mr Cerqua then fled - not even stopping to put on his shoes. He was later arrested.
The prosecution said the single stab wound penetrated Christopher's aorta, a principal artery, and he died despite huge efforts to save him by paramedics and hospital staff.
The prosecution told the court that, in an interview with police, Mr Cerqua admitted stabbing Christopher but claimed he was being threatened with a knife.
He said he had either taken that knife or picked up another to defend himself.
The prosecution said only one knife, with a bent blade and broken handle, was found in the kitchen sink, and that was the murder weapon.
The prosecution said Mr Cerqua was not acting in self defence but stabbed his brother in a fit of temper after drinking.
The brothers' parents Peter and Denise were in the house in Hythe when the fight happened.
The jury was played a recording of the 999 call made by Mrs Cerqua.
At first she asked for the police because they are fighting but then said: "Can you get an ambulance as well. He's been stabbed."
Mr Haggan said during the call you can hear her husband shout: "He's stabbed him."
The trial is expected to last two weeks.