Sixty drivers caught taking photos of accident on phones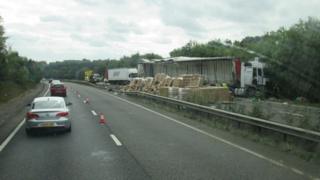 More than 60 drivers have been caught by police taking photos of a road accident on their mobile phones.
A lorry overturned on the A34 at Sutton Scotney, Hampshire, at 07:00 BST on Wednesday.
Police officers recorded the number plates and the registered owners have been sent a letter asking them if they were driving at the time.
They then could be fined £100, given three penalty points or offered a driver awareness course, police said.
A passenger, who did not want to be named, admitted he had taken a picture as he went past.
He said: "If you're hanging out the window with your camera phone then you're asking for it.
"There were not any police around when I went past. If people were stationary, what harm are they doing?"
Nick Lloyd, from the Royal Society for the Prevention of Accidents, said the force should be "commended for taking such positive action".
He said: "However, it's very disappointing they have to do this in the first place, that 60 drivers have been seen taking a photograph."
The driver of the lorry, a 50 year-old man from Wiltshire, was airlifted to hospital with serious injuries and a second driver, a 45-year-old man, was treated by paramedics.
Using a mobile phone behind the wheel was made illegal in December 2003.