Southampton City Gateway university halls opening delayed for year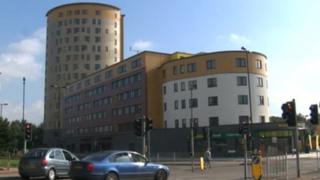 The opening of new student new halls of residence in Southampton has been delayed for a year, following a hold-up in building work.
The 15-storey City Gateway was being built by Bouygues Development to provide about 350 flats for University of Southampton students.
The university said it was not ready in time to allocate students.
The developers blamed a supplier for a delay but said the fully-furnished building was ready to welcome students.
A university spokesman said the completion of the building had been "unavoidably delayed" ahead of the 2014-15 academic year.
"We are all extremely disappointed that we were not able to use City Gateway at the start of this academic year but we are confident that delaying the opening of the hall is the right decision for our students and the University will not take occupation of the building now until August 2015," he said.
He added the university was able to fulfil its commitments to provide accommodation for students elsewhere in the city by delaying some non-essential maintenance work.
Bouygues Development said completion was due on 1 August and practical completion was achieved on 14 August.
The company said the building was now fully complete with "no outstanding issues".
On-site facilities at the development, including a medical centre, pharmacy and launderette, are open for business.