Buckskin flood victims set to return home eight months on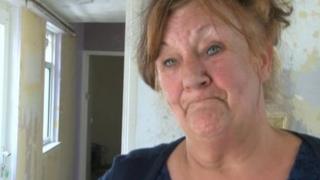 Residents of a Hampshire housing estate are preparing to return home eight months after they were flooded with polluted groundwater.
Sovereign Housing Association, which owns 40 of the homes affected by the flooding in Buckskin, Basingstoke, in February, confirmed two households will return this month.
Remaining residents will move back in November and December.
Resident Denise Walker said it was a "real lift" to hear the news.
In January, severe weather caused flooding in many parts of the UK, including around the River Thames in Berkshire and Hampshire.
'Disruptive'
"I cried for about three months, every day, it was just you can't believe that something like this could happen to you," said Ms Walker, who spent 97 days in a hotel before moving to temporary accommodation.
"We just want to go home and carry on as normal, this year has been so disruptive."
Sovereign spokesman Roy Probert said 26 households had decided to remain in the homes they had been moved to, while 14 households will return to Buckskin.
More than 80 houses were evacuated during the flooding and 77 million litres of water pumped out.
About half of the affected homes are owned by Sovereign, the others are owner occupied.