New Forest safety group urges cycle organisers to reconsider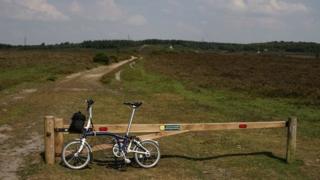 A safety group is discouraging two cycling events from going ahead on the same day.
The Gridiron 100 and the Wiggle New Forest 100 Sportive are due to take place on 12 October and could pass each other in the national park.
The New Forest Safety Advisory Group has said the clash could cause "severe traffic congestion and safety issues" and advised against them taking place.
Concerns about the events were initially raised in July.
A spokeswoman for the safety group said "a breakdown in the relationship between the event organisers has made coordination very difficult".
'Whipped up'
The organiser of the Gridiron 100 event, who did not want to be named over concerns for his safety while cycling in the forest, said: "I raised the issue of a clash back in June with the Wiggle organisers, they came back to me and said revisions in the route had overcome problems.
"But when I saw them last week that wasn't the case."
The Gridiron event has been running for 22 years and is organised by volunteers under the auspices of national cycling charity CTC.
He said he was looking at how to change the route and that the issue has "whipped up strong feeling" about cycling in the forest.
Martin Barden, organiser of the Wiggle New Forest 100 Sportive which has been running for six years, said: "We are currently working with CTC Wessex, the organisers of the Gridiron, to minimise any impact of our events running on the same day."