Chinese sky lanterns banned on Hampshire council land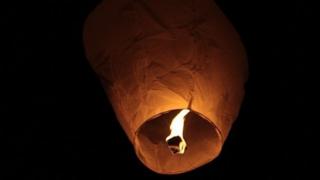 The launching of sky lanterns from land owned by Hampshire County Council is to be banned.
The lanterns have been criticised for causing fires and harming wildlife.
Council leader Roy Perry said they posed a "serious problem" and would be banned from schools, council farmland, country parks and entertainment venues.
The government has rejected calls for an outright ban but the Trading Standards Institute published a code of practice for their use last month.
The council is also to write to other district, town and parish councils to follow suit and ban the lanterns from their land.
Once released, the paper and wire lanterns can travel up to 50km (30 miles) before burning out.