Isle of Wight woman jailed for caustic soda attack in Sandown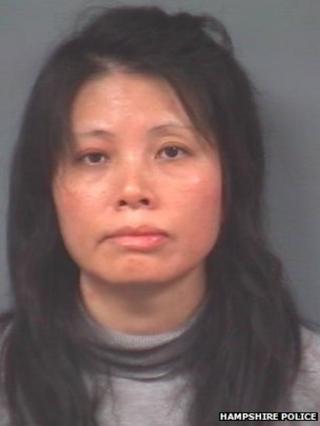 A jealous wife has been jailed for nine years for throwing caustic soda over a waitress at her husband's restaurant.
Sau Lin-Hin, 48, of Mulberry Way, Ryde, had pleaded guilty to grievous bodily harm after she threw the corrosive liquid at Zhijian Zhang, 22.
Ms Zhang, also known as Jackie, suffered severe burns to the right side of her face and upper torso.
Prosecutor Dale Sheehan said Lin-Hin wanted to make her victim "less attractive".
He said Lin-Hin had mixed the caustic soda, also known as sodium hydroxide, with water.
He said: "The level of concentration was viscous, sticking to the skin or any surface in which it came into contact. It was extremely corrosive."
Victim 'devastated'
The attack happened in the High Street in Sandown, Isle of Wight, on 4 June.
Ms Zhang suffered extensive injuries to her face, arm, shoulder and chest and has been scarred for life.
Speaking about her victim personal statement, Mr Sheehan said: "She said that she had been disfigured even on parts of her body not directly affected by burns because surgeons used other parts of her body for skin grafts.
"She is devastated as she cannot be exposed to sunshine without wearing lots of sunscreen, has to wear lots of bandages and cannot have a wash without the help of her sister.
"She has lost her job, is currently a dependant of her family and is very worried that she might not be able to work again or find love because of her scars."