Alternative New Forest cycle plans criticised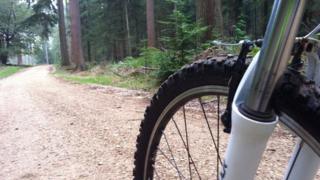 Alternative plans to improve cycling in the New Forest, following the rejection of a "Boris Bikes" hire scheme, have been criticised by campaigners.
The scheme was to have been part of £3.6m Department for Transport (DfT) funding for "family-friendly" cycling in the national park, which has to be spent by March.
National Park Authority (NPA) members voted to approve the plans earlier.
Cycling blogger Tim Barry called them "a real setback".
In August, NPA members voted to abandon the £2m rural bike hire scheme, similar to the one introduced by Boris Johnson in London, after a report cited "anti-cycling sentiment" in the forest.
The authority said alternative plans would "help form a better network for cyclists in and to the National Park".
Among the proposals, more than £1.27m is allocated to the 6-mile (9.6km) Rhinefield Ornamental Drive road.
The authority said it planned to "upgrade road edges on both sides (without road widening), creating a consistent, high quality surface for cyclists to access this key scenic route".
'Real hit'
It also plans to spend £300,000 on improving cycling facilities at Moors Valley Country Park, outside the national park boundary.
But Mr Barry, who runs the Cycle New Forest website, called the new plans a "glorified pot hole repair scheme" and urged a revival of the original bike hire scheme.
"It was such a good idea and now cycling has taken a real hit," he said.
"In the wider cycling press the thinking is the New Forest is anti-cycling. And yet the New Forest gets its main income from tourism".
Following the meeting, NPA member and Lib Dem county councillor David Harrison, who had championed the hire scheme, posted on Facebook that some of the new suggestions have "have rather dubious merit".
He said there had been been a lack of public consultation and a "very mad rush" to compile plans before the March deadline for spending the government cash.
NPA chairman Oliver Crosthwaite-Eyre insisted the bike hire scheme was not financially sustainable.
He said the new proposals were "not last-minute".
"What we're doing has nothing to do with run-of-the mill road maintenance. It will make it safer and more enjoyable for families to cycle," he said.
The proposals will now go to the DfT for ministerial approval.