Hayling ferry company fined over passenger numbers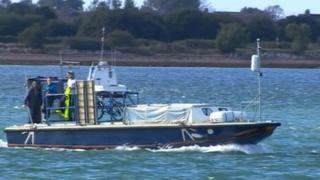 A Hampshire ferry company has been fined for safety breaches after carrying too many passengers, many of them schoolchildren.
The Tina Marie operated by Hayling Ferry Ltd, landed between 16 and 27 passengers at Hayling Island during four crossings in January and February.
Used as a ferry between Hayling Island and Eastney the boat is certified to carry 12 passengers and two crew.
The ferry service is used by about 70 children to get to school each day.
The prosecutions were brought by the Maritime and Coastguard Agency (MCA).
Captain Amir Esmiley, of the MCA's Southampton marine office, said: "There was a clear lack of concern for the safety of passengers which was made worse as the majority of people on the four crossings were children."
The MCA said the vessel had inadequate lifesaving equipment for all the adults and children on board.
Hayling Ferry Ltd pleaded guilty to four counts of sailing without a valid passenger certificate, and two charges of sailing with insufficient life rafts onboard.
Portsmouth Magistrates' Court fined the firm £6,000 plus costs of £4,000. Skipper, Geoffrey Oliver was fined £900 plus costs of £400.
The owner of the vessel, Frida Edwards was fined £600, plus costs of £300.