Ashya King: Portsmouth City Council scrutiny chairman quits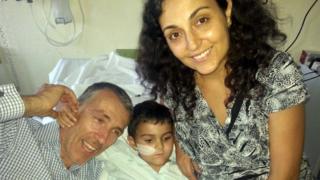 The chairman of a Portsmouth City Council committee has quit over how its role in the case of brain tumour patient Ashya King is reviewed.
The five-year-old was made a ward of court at the council's request when his parents removed him from hospital after disagreeing with doctors.
Alistair Thompson said his scrutiny management panel was being "blocked".
The council said a separate review by Portsmouth Local Safeguarding Children Board (PSCB) should take priority.
Parents Brett and Naghemeh King, from Southsea, sparked a police hunt when they removed Ashya from Southampton General Hospital on 28 August without medical consent.
They wanted him to have proton beam therapy, which was not available to them on the NHS.
Portsmouth City Council made a request for a temporary wardship order the following day, following a request from the hospital and Hampshire Constabulary, while Ashya's whereabouts were unknown.
Ashya's parents were arrested in Spain and spent several days away from their son, reuniting once the Crown Prosecution Service withdrew a European Arrest Warrant.
'Full and comprehensive'
The independent PSCB announced on 5 September it would review the circumstances which led to the Kings taking Ashya abroad and the response of all the statutory authorities.
Explaining his decision to step down as chairman of the scrutiny management panel, Conservative Mr Thompson said the panel should review the case, rather than wait for "some sanitised report" by the PSCB.
"There are serious questions which need answering - did the council follow our own procedures as well as the law, could we have been more humane in how we carried out our statutory role?
"They are important questions and councillors should be able to ask them."
Council leader Donna Jones said the council should wait for the PSCB report before reviewing its own conduct.
"It's my opinion, and that of the chief executive, that it is entirely right for the PCSB to run the investigation and produce a full and comprehensive report which will be published in full."
The council's wardship expired when Ashya arrived at the Proton Therapy Center (PTC) in Prague where he is currently undergoing post-operative radiotherapy.