Undercliff Drive funding secured for landslide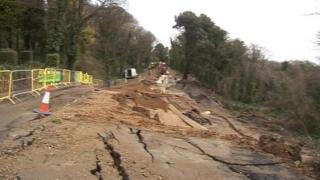 Half-a-million pounds is to be spent on solving problems caused by a landslide on the Isle of Wight.
Councillors agreed on Tuesday to fund research into different options for repairing Undercliff Drive which was destroyed in February's severe weather.
Nine homes were evacuated and residents have been living in rented accommodation ever since.
The £500,000 will help decide which option to take including whether to build a low-cost road from the west.