Ashya has first tests at Prague proton beam clinic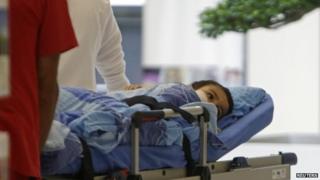 Brain tumour patient Ashya King has left a Czech clinic after undergoing his first scans in advance of his planned proton beam treatment.
The five-year-old arrived at the Proton Therapy Centre (PTC) in Prague on Monday by private jet from Spain.
A hospital spokeswoman said he was having his first MRI examination.
Parents Brett and Naghemeh King sparked a police hunt when they removed Ashya from Southampton General Hospital on 28 August after disagreeing with doctors.
They wanted him to have proton beam therapy, which was not available to them on the NHS.
The couple were arrested in Spain and spent several days away from their son, reuniting once the Crown Prosecution Service withdrew the European arrest warrant.
After the family's arrival in Prague, Mr King told BBC News it felt like they "got through the storm".
He said: "We've been labelled all sorts of things, from kidnappers to religious fanatics, we've had the police chasing us, we've been arrested, we've spent two days in a Spanish prison, we've had so many court cases.
"My son is everything to us so I've got no complaints, you know that in comparison what we've been through is nothing.
"We're just here, we've made it through, it's like we've been through a storm and we've come out the other end."
The family first contacted the Czech clinic on 1 August.
"Cancer is not something you can just sit on, you know it has to be done quickly," Mr King said.
"From the 1st of August they [PTC] were asking the doctors in Southampton, 'give us the information, we'll assess your son, it's not going to cost the NHS nothing to just send the information'.
"They have received that information now, some one month later, and they said this treatment is perfect. So I believe them - I've got no reason to doubt them. They're here to help my son."
The PTC previously said the treatment is suited to Ashya's type of brain cancer, medulloblastoma.
A special mask will be prepared for Ashya's head, a hospital spokeswoman confirmed.
She said: "This will be used for fixing him in the same position during the treatment every day."
In a statement, the PTC said: "If all goes well and the physicists will be able to prepare Ashya's irradiation plan in four days - instead of the standard 10 - he will start on Monday."
It said Ashya would need 30 irradiation visits, which would last for about five weeks.
This would be combined with chemotherapy, which will be managed by specialised oncologists at Motol University Hospital, where the youngster is staying with his mother.
The treatment is a type of radiation therapy that uses beams of protons - or small parts of atoms - rather than high energy X-rays, as with conventional radiotherapy.
The protons can be precisely directed at a tumour and, unlike conventional treatments, the beams stop once they hit the target, rather than carrying on through the body.