Isle of Wight hospital criticised by CQC report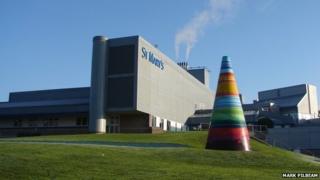 Staffing levels and recruitment at the Isle of Wight's health services have been criticised by a health watchdog.
The Care Quality Commission (CQC) rated acute services at St Mary's Hospital, Newport and Community Health services as "Requiring Improvement".
Its inspectors highlighted issues with staffing in the accident and emergency and stroke units.
The Isle of Wight NHS Trust said it would "address all the issues identified".
The inspection, carried out in June, found staff treated patients with "dignity and respect", and the trust on the whole provided the "right care at the right time".
However there was a lack of medical staff in the stroke unit and long waiting times for community mental health teams.
Poor practice
It also found pressure on beds at St Mary's Hospital meant that patients were being moved between wards too often.
During the inspection the CQC warned the trust over A&E patients being assessed by a non-medically qualified receptionist and confusion over the admission of children.
Chief inspector of hospitals Professor Sir Mike Richards said: "People told us how at times low staffing numbers affected their care and treatment and there were also areas of poor practice where the trust needs to make improvements.
"I recognise the challenge that the island faces in attracting and retaining experienced staff."
He said the trust would have to prepare for the challenges and pressures the island's older population would bring.
Chief Executive of Isle of Wight NHS Trust Karen Baker said she accepted the report provided a "fair and balanced assessment".
"The CQC have provided us with a clear view of what is required by our regulator to achieve a 'good' rating.
"We have action plans in place to address all the issues identified and will be reporting back to the CQC on 31 October 2014."