Ashya King 'to leave hospital for proton treatment'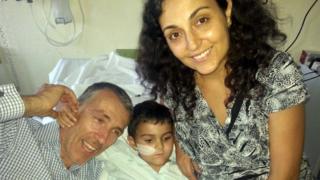 Five-year-old brain tumour patient Ashya King is being prepared to leave hospital in Spain for proton treatment in the Czech Republic.
He has been receiving treatment at the Materno Infantil hospital in Malaga.
Its director Manuel Paz told BBC News on Sunday evening that Ashya was "ready to leave".
Parents Brett and Naghemeh King removed Ashya from Southampton General Hospital on 28 August after disagreeing with doctors about his treatment.
They were later arrested in Spain under a European arrest warrant, which sparked an international outcry.
The Proton Therapy Centre in Prague has said that documentation from the hospital in Malaga will be reviewed before Ashya can travel.
The therapy centre said an expert panel of physicians will discuss transportation details and additional treatment needed according to Ashya's current health.
Vladimir Vondracek, from the centre, said: "We will be targeting just the whole brain in the first phase and the spinal cord.
"The second phase will be targeting the back of the tumour which was removed by surgery."
The treatment Ashya is due to receive in Prague is a type of radiation therapy that uses beams of protons - or small parts of atoms - rather than high energy X-rays, as with conventional radiotherapy.
The protons can be directed at a tumour more precisely than X-rays and unlike conventional treatments the beams stop once they hit the target, rather than carrying on through the body.
Ashya previously had major surgery to successfully remove a brain tumour on 24 July and a further operation on his brain on 22 August.
As a result of these procedures he was unable to speak, unable to eat or drink on his own, and relied on a food pump.
Following his disappearance from Southampton Hospital, Hampshire Constabulary obtained a European arrest warrant on the grounds the Kings had neglected their son.
But the Crown Prosecution Service (CPS) later withdrew the warrant.
Ashya was also made a ward of court after an application was made by Portsmouth City Council - but a judge has ruled that the wardship will be discharged when Ashya reaches the clinic in Prague.
---
Ashya King's legal status
Portsmouth City Council made the request for a temporary wardship order on 29 August, following a request from Southampton General Hospital and Hampshire Constabulary, while Ashya's whereabouts were unknown
The order specifically related to Ashya's medical care and required him to be taken to the nearest appropriate hospital
Following a hearing on 2 September the case was adjourned to allow the parents to put forward their proposals for Ashya's treatment
He remains a ward of court but at a High Court hearing on Friday, Mr Justice Baker ruled that "upon his arrival at University Hospital Motol, the wardship shall be discharged and Ashya shall cease to be a ward of court"
Technically, if there is a dispute between the parents and the medical authorities as to the right course of treatment, the court will make the decision
If the two sides are in agreement, the court will endorse that agreement to allow treatment to begin
---