South Parade Pier restoration petition gains support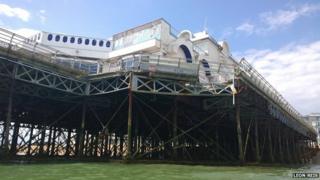 Thousands of people are supporting a campaign to fully restore Hampshire's last Victorian pier.
Campaigners have collected more than 12,000 signatures for a petition calling for renovation of the derelict South Parade Pier in Portsmouth.
It was closed in 2012 and is in a state of disrepair.
In May, Portsmouth City Council ordered the owners in court to carry out repairs and work has started at the 139-year-old venue.
The trust said it had collected four signatures a minute throughout the weekend at the Victorious Festival on Southsea Common.
Leon Reis, chairman of the trust, said the petition will be presented to the city council and trigger a debate on the issue.
In November, the council will assess whether the owners have fulfilled their obligations under the court order to complete safety work, but has no involvement until then.
Last May, it was reported a consortium named South Parade Pier Ltd fronted by Southsea entrepreneur Lawrence Mendel had bought the pier.
The registered address of the South Parade Pier Ltd, which was established in March, is a mail-forwarding service in central London and Mr Mendel is listed as director.
The purchase has not yet been updated on the Land Registry.
Stephen Penfold, of Stephen Penfold Associates, a structural engineering company which is working with Vivid Surveyors on the pier, said: "We have done some remedial work over the last month and there is an awful lot to be done."
Bernie Cooper, a spokesman for the consortium, told the Portsmouth News the sale of the pier was all but completed and they hoped to open the venue by next Easter.