Lockerley memorial stone for WW1 VC hero Frederick Luke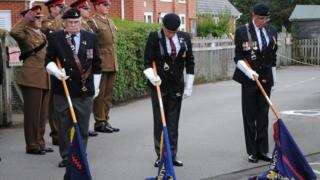 A memorial stone has been unveiled in Hampshire to remember one of the earliest Victoria Cross recipients of World War One.
Frederick Luke, who was born in West Tytherley, was awarded the medal for helping retrieve a captured gun during the retreat from Mons in August 1914.
Several of his fellow soldiers were killed in the operation.
The stone, at Lockerley and East Dean Memorial Hall, was unveiled at a ceremony on Tuesday evening.
Mr Luke enlisted in January 1913 and joined the Royal Field Artillery (RFA). When war broke out he was serving as a driver with the 37th Battery RFA.
It was during the retreat from Mons at the action of Le Cateau on 26 August 1914 that Mr Luke, then aged 18, voluntarily assisted in retrieving the gun from within 100 yards of the German leading line, while under heavy fire.
Mr Luke and two others received the honour in recognition of their bravery and achievement.
The ceremony of remembrance included the Last Post and the Reveille.
The unveiling of the stone at the entrance to the hall is part of a government scheme to install permanent memorials to recipients of the Victoria Cross.
During World War One, 628 Victoria Crosses were awarded - 454 to UK-born recipients, 173 to servicemen born overseas.
One person was awarded the Victoria Cross twice.