New Forest cycle hire scheme rejected by park authority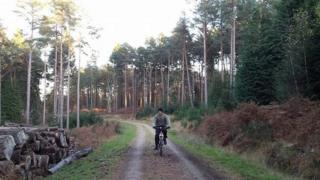 The New Forest Park Authority has rejected plans to introduce a cycle hire scheme, similar to London's "Boris" bikes.
A task group had recommended the authority reject the plan because of "anti-cycling sentiment" in the forest.
A cycling event was sabotaged in April by people throwing tacks on the track, causing punctures on 15 bikes.
Olympian Chris Boardman had backed the scheme, and urged supporters to sign a petition.
The authority had considered the introduction of cycle docking stations and up to 250 bikes, but a report said there was "insufficient confidence" the bikes would be "financially sustainable or receive sufficient local support".
The Spring Sportive event, which attracted more than 2,000 cyclists, was targeted by opponents in April.
Mr Boardman's petition in favour of the cycle hire gathered more than 2,000 signatures.
Chairman of the authority Oliver Crosthwaite-Eyre said: "We concluded that the risks of setting up the scheme now outweigh the benefits.
"We felt we simply could not justify spending a considerable amount of government money on a system that might not be able to survive at this time, and which seems to have insufficient support in the key locations of the forest from where it needs to operate."
The Department for Transport provided £3.6m towards promoting sustainable transport in the New Forest National Park in August 2013, which must be spent by March.