Winchester city centre 20mph speed limit starts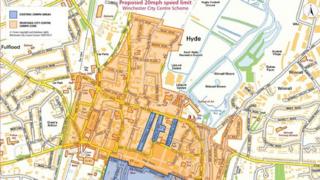 A new 20mph speed limit for Winchester city centre has come into force.
The move is partly in response to about 100 injury accidents in the area over the past five years, Hampshire County Council has said.
Speed limit road markings are in place and signs will be completed next month.
The scheme is being implemented by Winchester City Council on behalf of the county council. Portsmouth became the first city in Hampshire and the UK to introduce a 20mph limit in 2006.
Winchester City Council said police were responsible for enforcing speed restrictions but 20mph limits are intended to be largely self-enforcing by influencing driver attitude and behaviour.