New Milton in Hampshire gets "craft bombed"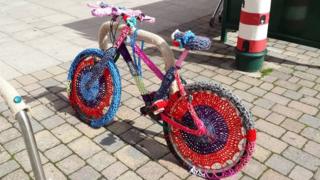 Residents in a Hampshire market town have had their street "craft bombed" with knitted covers, bunting and soft toys.
Station Road in New Milton had been decorated in secret by a "nutty crafters" group who "wanted to spread a little bit of handmade love".
One of the craft bombers told the BBC decorations included patchwork trees and "a town mouse on the clock".
The craft bombing follows spates of yarn bombing around the country.
The group, from a local craft shop, said there were "comfy benches, a town mouse on the clock, bees and butterflies, lighthouses, bikes, fish and things for kids and grown-ups to find and keep".
BBC reporter Roz Tappenden said: "All the lampposts, bus stops, bins and signs are covered in bunting, soft toys and knitted covers.
"Even the post box has a pom-pom hat."