Royal Navy alcohol consumption 'curbed' after fatal submarine shooting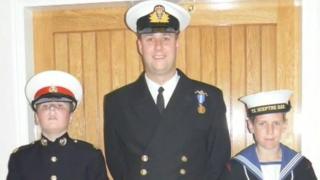 "Excessive drinking" in the Navy is being addressed after the shooting of a commander in Southampton by a drunken colleague, the government has said.
Coroner Keith Wiseman wrote to the Ministry of Defence after the inquest of Lt Cdr Ian Molyneux in January 2013.
The ministry responded in a letter, seen by the BBC, and said new practices had "moderated" alcohol consumption.
Mr Wiseman raised concern about a "culture of excessive drinking" in the Navy following Mr Molyneux's death.
'Extremely intoxicated'
Mr Molyneux was shot by Able Seaman Ryan Donovan on nuclear submarine HMS Astute, which was docked in Southampton in April 2011.
Donovan, from Dartford in Kent, was seen "extremely intoxicated" during the night before his shift, and was in charge of a rifle from 12:00 BST.
He killed Mr Molyneux, a 36-year-old husband and father-of-four from Wigan, Greater Manchester, and injured two others. He was jailed for life at Winchester Crown Court in 2011 and told he must serve at least 25 years.
During the inquest in January last year it was estimated he had 139mg of alcohol per 100ml of blood.
The Navy allows personnel to consume no more than 35mg of alcohol per 100ml when they are on safety-critical duty, the same as the UK drink-drive limit. For personnel handling weapons the limit is 9mg per 100ml.
Mr Wiseman, Southampton's former coroner, recommended random alcohol testing and said that no alcohol should be consumed within 24 hours of personnel starting duty, especially when handling weapons.
The MoD said new Navy rules, under the Armed Forces Act 2011, prohibited the consumption of more than five units of alcohol 24 hours before duty. It said no alcohol was to be consumed in the 10 hours before duty.
Blanket or random testing cannot not be carried out for legal reasons, according to the Navy, but devices are used if someone is suspected of being under the influence of alcohol.
There have been several prosecutions since this was introduced and the devices were having a "desired beneficial effect on culture and attitude to moderating alcohol consumption".
Mr Molyneux's family declined to comment because of ongoing litigation.