Itchen Stoke watercress beds dormant 'because of new laws'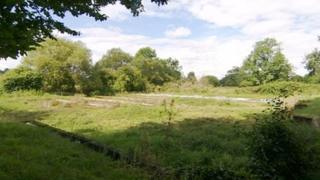 Watercress beds dating back 200 years are lying dormant because new charges for running them are too high, a landowner has said.
Charles Ranald faces thousands of pounds in costs to pay for licences and to take other measures to limit water pollution.
He said the beds at Itchen Stoke used no chemicals or machinery and described the situation as "horribly unfair".
The Environment Agency said it was trying not to burden businesses.
It has set new limits on phosphate levels in Hampshire's chalk streams to comply with EU law.
Mr Ranald said farmers were afraid to rent the land because of the costs, which previously amounted to only £35 a year.
As a result no watercress had been planted this year.
'Not overly burdensome'
He said a licence for the "tiny" farm along with the annual fee was £1,600, but the cost of putting in a settlement pond to filter water before it goes into the river could be more than £12,000.
He added: "They said the Itchen should be kept free of discharge from watercress beds, because of phosphates.
"I agree, but we do not use phosphates.
"I don't want to go into business as a deliberate loss maker."
The Environment Agency said it was working with watercress farms near the River Itchen to "reduce the level of nutrients they discharge in order to improve water quality and protect the river, whilst not being overly burdensome on businesses and the rural economy".
It said farms now required a permit to discharge their waste water into the river, and warned that its "unique ecology" was being harmed by "poor water quality, related to waste water discharges and diffuse pollution".
Mr Ranald said he was trying to arrange a meeting with the agency to see if his farm could get an exemption.