Southampton MEP candidate Del Singh unlawfully killed in Kabul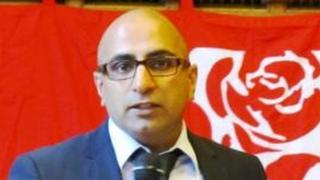 A Labour MEP candidate who died in suicide bomb and gun attack in the Afghan capital Kabul was unlawfully killed, a coroner has ruled.
Dhamender Singh Phangurha, 39, known as Del Singh, was among 21 killed in the attack at a restaurant in the city in January.
Born and raised in Southampton, he was a volunteer at two charities for the homeless and also mentored job seekers.
An inquest heard he died from bullet wounds to the head and chest.
The Taverna Du Liban restaurant was frequently used by foreigners as it was considered a safe and secure place, the inquest in Winchester was told.
Two gunmen
A suicide bomber detonated explosives outside the restaurant in the Wazir Akbar Khan neighbourhood on 17 January.
The explosion killed the security guards at the entrance and breached the steel door, allowing two gunmen carrying AK47 rifles to enter the premises and shoot indiscriminately at staff and customers, the inquest heard.
Mr Singh and former soldier Simon Chase, from Co Londonderry, were among 13 foreigners and eight Afghans killed. The dead included senior UN officials, Afghan dignitaries and restaurant staff.
Mr Singh had started his working life in two food production factories in Eastleigh alongside his mother and then studied in Southampton.
He became an international development specialist managing EU and UN projects in developing countries, including Afghanistan, Libya and Sierra Leone.
He was a leader of Labour Friends of Palestine and the Middle East (LFPME).
Among the tributes paid to Mr Singh after his death, Labour leader Ed Miliband said: "He dedicated his life to working with people across the world who needed his support."