Hursley car fire: Three hurt in 'attempted murder'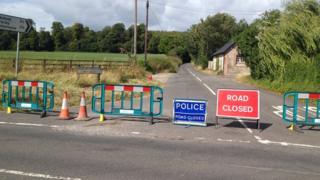 A car fire in which a mother and her two young children were badly burnt is being treated as attempted murder.
The vehicle was found ablaze at about 20:00 BST on Monday in Merdon Castle Lane, Hursley, in Hampshire.
The 37-year-old woman and her six-year-old daughter are in a serious condition and her five-year-old son is being treated for life-threatening injuries.
Det Insp Simon Baker said police were keeping an open mind and treating the investigation as an attempted murder.
Passer-by Alan Beusmans, who helped rescue the boy, described the scene as "distressing".
Mr Beusmans and his son saw the burning car, with the mother and daughter outside and the boy trapped inside.
"To my horror I saw this young kid pressing his face against the window. I went to open the door and burnt my hand.
"He fell out and amazingly got up.
"It was pure chance. If we hadn't been there, you just don't know," he said.
Police said the three people in the car were from Southampton and next-of-kin had been informed.
Hampshire Fire and Rescue Service said the car was completely destroyed.